What to do with all that zucchini
LARGE ZUCCHINI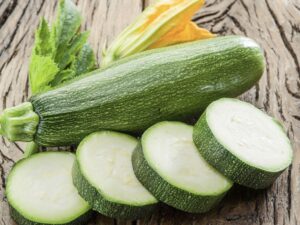 ZUCCHINI CAKE OR NUT BREAD
Wash, peel, slice in half and discard the seeds.  Shred or grate the remaining zucchini and make a cake or a nut bread.
ZUCCHINI BREAD
4 eggs                                     3 cups coarsely grated zucchini
3 cups sugar                           3 1/4 cups flour
1 1/2 cup vegetable oil           1 Tablespoon cinnamon
1 1/2 tsp vanilla                       1 1/2 chopped walnuts
3/8 tsp baking powder            1 Tablespoon baking soda
1 1/2 tsp salt
Beat eggs until fluffy, add sugar, salt, oil, vanilla and mix well.
Stir in rest of dry ingredients.
Stir in zucchini and nuts.
Bake in 2 greased loaf pans at 350 degrees for 1 1/2 hours or until done and toothpick comes out clean.
Cool for 10 minutes before removing from pans.
---
STEWED ZUCCHINI
Wash, peel, cut in half and discard the seeds.  Cut the zucchini into 1/2 to 1 inch cubes.  Add onions, celery, green peppers, garlic (optional) and chopped tomatoes.  Cook until soft and serve as a vegetable side–similar to stewed tomatoes–add salt and pepper to taste.
---
MAIN DISH
Add browned ground beef to the stewed zucchini mixture and serve as a main dish over rice or noodles.
SMALLER ZUCCHINI
SAUTED ZUCCHINI
Wash and slice or chop into 1/2 to 1-inch cubes.  Sauté in oil with onions, garlic, herbs, salt and pepper.  Serve as a vegetable side.
---
FRIED ZUCCHINI
Wash and slice into 1/4-inch slices.  Batter and fry in oil in a skillet or deep fat fry.
---
ZUCCHINI BOATS
Wash and slice small zucchini lengthwise in half.  Scoop out the seeds to make a zucchini boat.  Blanch in boiling water for a short time–too long and the zucchini will fall apart–serve with the above stewed zucchini and ground beef over the top.
If you make your own vegetable soup, add shredded or chopped zucchini in place of half of the potatoes.  Fewer carbs in the soup.