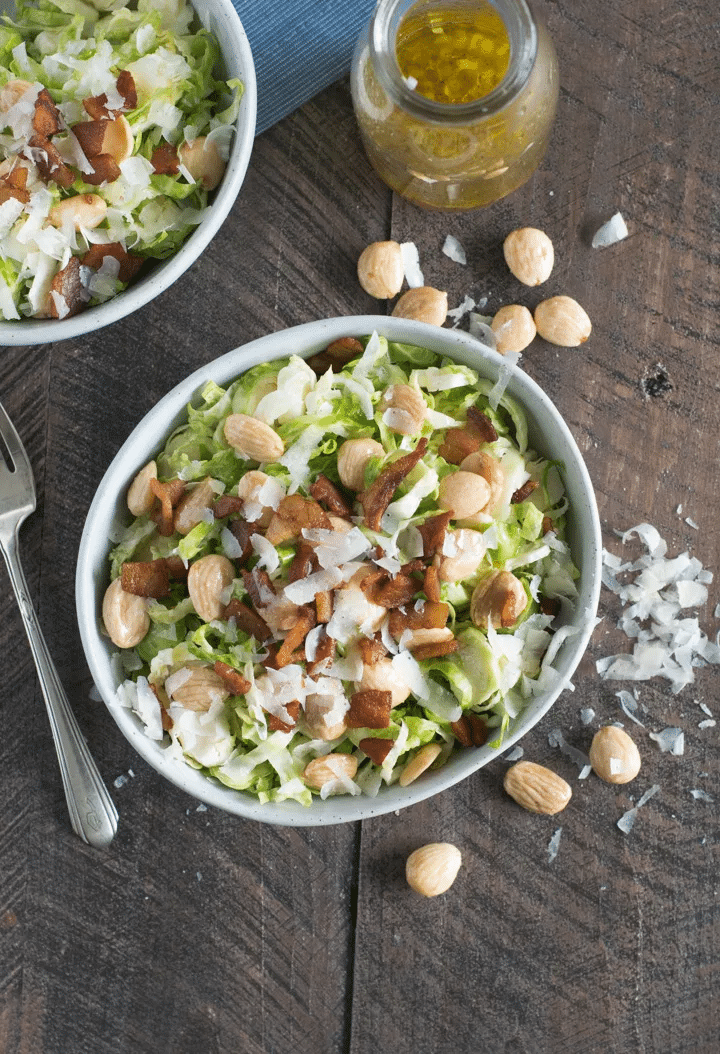 For the salad:
2 ounces pancetta or bacon, chopped 
2 cups shaved brussels sprouts, about ¾ pound 
½ cup Marcona almonds
¼ cup shaved parmesan 
For the dressing:
2 tablespoon champagne vinegar
1 teaspoon dijon mustard
1 teaspoon shallots, finely minced
¼ teaspoon ground pepper
2 tablespoons olive oil
½ teaspoon agave syrup or sugar
½ lemon, juiced
¼ tsp Worcestershire Sauce
Salt to taste
Instructions:
Cook the pancetta/bacon. Heat a small skillet over medium-low heat; add pancetta/bacon and cook for 10-12 minutes or until crisp. Remove from the pan with a slotted spoon and place on a plate lined with paper towels to drain.
Shred the brussels sprouts. Remove the tough outer leaves from the brussels sprouts. Using a mandoline, shave the brussels sprouts (if you don't have a mandoline, you can slice them by hand or use a food processor). Place shaved brussels sprouts in a medium bowl.
Make the dressing. Whisk the vinegar, mustard, lemon juice, shallots, agave (or sugar) and pepper together in a small bowl. Add olive oil and whisk until combined. Be sure to adjust to your taste — you may like it sweeter or more acidic. (NOTE: If you don't have champagne vinegar, use lightest vinegar you have)
Assemble the salad. Add the almonds, shaved cheese and pancetta to the brussels sprouts. Pour the dressing over the salad and toss to coat.