DOOR HEART
Whittle down that fabric stash and make this ragged heart wreath.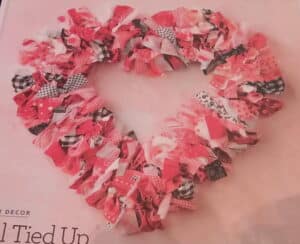 12-inch heart shaped wire form
1 ½ yard fabric or six fat quarters in coordinating colors
Scissors
Directions:
Cut fabric into 150 strips, each measuring 1 ½ x 8 inches
Using 1 strip of fabric at a time, wrap around two rungs of wire on wreath form and tie with a square knot facing the front.

Continue tying strips to wreath form, alternating between inner and outer rungs of the form.

Slide strips together tightly until form is covered.

Hang on door.
from Feb/Mar 2021 Country Woman