It's February. It's the depth of winter with cold and snow surrounding us but we're safe and warm in our homes. Though it doesn't seem like it, spring is creeping closer. February is the shortest month of the year, so we'll soon be looking backwards on this winter. To get through this time of cold and isolation, we can spruce up our homes and celebrate the good in our lives.
Here's a good thing: vaccines. What a magic word right now! I am looking forward to the time when we all have had our vaccines (both injections) so that we can safely get together again. We still don't know when that will be but it's coming closer. We're wondering if we can meet before September. We're contemplating whether or not we can safely hold our plant auction, maybe outdoors. We'd really like to know if you would be interested in trying it or if you'd feel better waiting till next year. Please send your thoughts to us at
info@duneslandgardenclub.com or call any of the officers.
Another good thing is that it is Valentine's month which turns our minds and hearts to our friends and loved ones.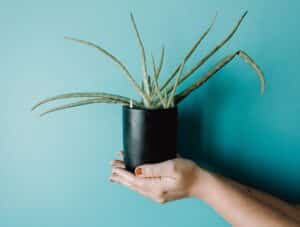 Share that love. Call, write, zoom and send gifts; whatever makes you happy. There is always chocolate, but I'm going to suggest a green gift—a living plant. We're gardeners, aren't we? In this issue you will find some information on houseplants to help you choose that gift for yourself or someone else.
Now is the time for love and patience, waiting for spring, waiting for vaccines, waiting for the time to be free to do as we please. Wait for us; we're still here and soon we can all join each other.

---
More snow is coming (until April or May?) I know everyone is getting tired of being cooped up at home with nowhere to go to get relief. Life can get pretty boring. So let's have some fun!
Get out those seed catalogs you sent for last month. If you haven't already planned your garden, now is the time. Page through those catalogs and look for something a little different this year.
Maybe plant some pole beans instead of bush green beans or vice versa. (Burpee's catalog has an interesting six-foot pole with string that takes up 5 square feet of space and holds 12 plants.) Look for a different pole bean than the one you usually plant.
Perhaps one that has foot-long beans or those little narrow French beans. If you plant zucchini, maybe try a yellow one this year. How about those cute little patty pan squash? If you have a sturdy fence, try Sandi's trombone squash
and grow them up the fence. Do you like peas? Give snap or snow peas a try. Plant peas in the garden early in the spring. They like cool weather. Maybe you would like to try some raised beds this spring. Start looking for what will suit your needs. Can you make it yourself or with someone's help? Do you need to buy one that is already complete?
Did you start some cuttings last fall? Are they getting leggy? You can cut them back and start more new plants. The old plant should bush out after cutting. See the website for a short clinic on this.
Check out Beth's Corner. Try the Broccoli Cheddar Soup–it's really yummy and warms you up on a cold day. The brownies are about the easiest Valentine desert you can do. And I've got three simple craft projects for you to try when you tire of the seed catalogs. Time to get out that button jar that 's been sitting around for a long while. Don't have a button jar? Call a friend, neighbor or your sister–I'll bet someone has one they would be willing to share. I've given you some ideas, so run with them and enjoy.

---